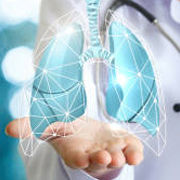 Patients with bronchiectasis frequently get chest infections which are difficult to treat and can cause coughing, sputum production, breathlessness and tiredness.
The purpose of this trial is to test whether a nebuliser containing an antibiotic called Aztreonam is a good treatment for those symptoms. We will assess whether people with bronchiectasis can take this drug safely.  We will also assess whether the drug can reduce the frequency of the symptoms. This medication is currently used to treat other types of lung disease.
For more information and to see what is involved, please visit Trial Information.
This trial is being sponsored by the University of Dundee and NHS Tayside, and organised by James Chalmers, Professor of Respiratory Research at the University of Dundee.
This trial is being managed by the Tayside Clinical Trials Unit.